6 Reasons Why A Cabin Rental Is Better Than A Hotel Stay


Thinking of booking a vacation to the North Georgia Mountains and aren't sure whether you should stay in a hotel or cabin rental? Let Blue Sky Cabin Rentals be your guide to help you understand why these 6 reasons are a sure-fire way to assure you'll book through us and not a hotel.
A True Home Away From Home
When staying in a hotel, your thought process is" it's just a place to lay your head at night." Hotel rooms are cramped and do not offer much in the way of comfort, not as your home does. When staying in a cabin rental, it's like your very own home. Our cabins have plenty of space to spread out and enjoy your time without feeling like your on top of one another. Our cabin rentals have living rooms, dining rooms, kitchens, bedrooms, game rooms and so many more rooms to enjoy. We have everything from 1 bedroom cozy cabins to cabins that can accommodate 10-12 people comfortably.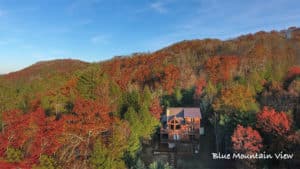 Every year we have thousands of visitors that specifically come to the North Georgia Mountains for the beautiful views and mountain living. When you stay at Blue Sky Cabin Rentals, you will be surrounded by mountains, lakes, and streams. You might be in the middle of the Chattahoochee National Forest or down on the Coosawattee River or up on Walnut Mountain. Either way, in a cabin rental, you are surrounded by natural beauty. While a hotel might come with a balcony overlooking a pool, our cabins offer spacious decks where you can relax in a bubbly hot tub or sit back in a rocking chair or roast marshmallows out by the fire pit.
Close to all the little mountains towns
Our cabin rentals may be tucked away in the mountains or down by the rivers, however, most are no more than a 15-minute drive to either Blue Ridge or Ellijay Georgia. Both little mountain towns have unique shops, antique stores, and great restaurants. Guests staying at hotels are most often located in the heart of it all and truly cannot escape. Staying in a cabin provides the best of both worlds. Close proximity to town and yet far enough away to enjoy the quiet and peaceful surroundings a cabin offers.
Amenities, Amenities, Amenities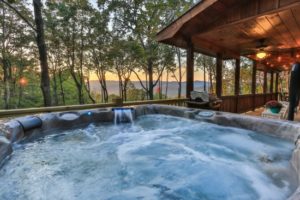 In no way can hotels compete with the awesome amenities offered by Blue Sky Cabin Rentals. YOU have the choice of awesome features such as hot tubs, home theaters, fireplaces, outdoor grills, pool tables, foosball tables, jacuzzi tubs, master suites, pools, WiFi and so much more. Our community of cabin rentals is overflowing with fun things to do.
Some hotels have the luxury of having a microwave or mini-fridge, however, all of our cabin rentals have fully-stocked kitchens and there is no charge to use it. Everything you would ever need is at your fingertips. All you have to do is buy the food. Having this luxury means not having to eat out every night which will, in turn, save money for something else you might want to do. Worried about that morning cup of Joe? Ne need to fear, we have full-size coffee pots too!
Fur-baby friendly
Don't want to board your four-legged friend while on vacation? Bring your fur-baby with you. We have a number of pet-friendly cabin rentals that your fur-baby is sure to love. Most of our pet-friendly cabins provide dog beds and food bowls. In contrast, trying to find a pet-friendly hotel is difficult enough and you usually have to pay extra AND bring your own beds and food bowls.
As you can see, relaxing in a cabin rental or staying in a hotel? There is no comparison. So the next time you are planning a vacation to the North Georgia Mountains in Ellijay or Blue Ridge, Georgia browse our website and let Calgon take you away.