Celebrate the 4th of July in North Georgia


The 4th of July is just around the corner and it's a great time to head to the North Georgia Mountains to experience all that the mountains have to offer. Plan your stay in Ellijay for a great family fun weekend in a wonderful cabin rental nestled in the mountains or on the river. The 4th of July is a busy time of the year with so many things to do and see in Ellijay. Outside of hiking, mountain biking, tubing, white water rafting, zip-lining, fishing, antiquing and so much more, you will want to mark your calendars for all the fabulous firework shows and 4th of July celebrations. Below is a list to help you plan your visit and celebrate with us.
4th of July Celebration in downtown Ellijay
Downtown Ellijay is the place to be to celebrate our nation's independence. Come celebrate with all your friends and family downtown Wednesday, July 4. Fun for the kids, as well as craft and food sales, start at 10 a.m. in the River Street parking lot. The big parade is set for 6 p.m. and fireworks follow soon after.
Firecracker Special – Blue Ridge Scenic Railway
Help celebrate the birth of our nation on Friday, June 29th for our Firecracker Special train. We depart Blue Ridge at 7:00 pm to enjoy the great Copper Basin Fireworks display just after dark and then return to Blue Ridge by 11:00 pm. Bring your lawn chair and sit outside the train to view the fireworks! Activities in downtown McCaysville/Copperhill when you arrive. Lots of vendors for food and things to do for the kids until the fireworks start.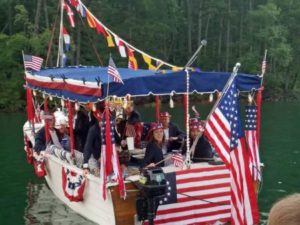 3rd Annual Lake Blue Ridge Boat Parade put on by the Lake Blue Ridge Civic Association will be Friday, June 29th from 9 pm – 12 am. Places to watch from the shore: Blue Ridge Recreation Area along with the point (Located on Dry Branch Road) Morganton Point Recreation Area and Lake Blue Ridge Marina. It can also be viewed from the lake, the parade will follow the shoreline from Blue Ridge Recreation Area to Morganton Point Recreation Area and ends by the Lake Blue Ridge Marina.
The skies over the twin cities of McCaysville, Ga and Copperhill, TN will be lit up on Friday night June 29th from 9:30 pm to 10:30 pm. Anywhere downtown is a great viewing area! Don't want to drive? You can board the Firecracker Express in Blue Ridge and arrive by train. There will be a street festival, vendors with food, etc. Live music. First Baptist Church of McCaysville has a fair that is open to the public, festivities start around 6 p.m.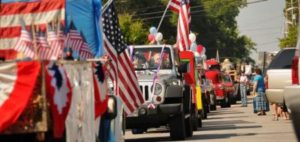 Blue Ridge's, Old Timers Parade is always held on the Saturday closest to the 4th of July. That means this year it is June 30, 2018, from 10 is to 11 am. The parade is not a 4th of July parade but rather a celebration of the Old Time Blue Ridge. Saturday was selected by the Historical Society many, many years ago as the day the parade will take place as that was the only day the farmers would come to town. The farmers would bring their buggies, horses, mules or tractors and ride in the parade alongside city officials, local organizations, business owners, bands and anyone else that wants to be involved. Not much since the mid-1950s has changed. It is still a time for all of BLUE RIDGE to come together and celebrate the way Blue Ridge, Georgia used to be. Bring your antique vehicles, dress in period attire OR not, it is up to you. The parade route is down East Main and back up West Main street. Anyplace downtown is a good viewing spot.
Celebrate the 4th of July Fireworks at Lake Blue Ridge Saturday, June 30th from 8:30 pm to 9:30 pm Fireworks can be viewed from Lake Blue Ridge around the Lake Blue Ridge Dam, Lake Blue Ridge Marina, By boat on Lake Blue Ridge, Tammen Park, Morganton Point Campground and surrounding areas. It begins at dusk.
Come celebrate this fantastic day with a relaxing evening at Playfield Park watching the wonderful display of fireworks over Lake Petit! Make sure to claim your favorite spot with your lawn chairs, blanket or towels and don't forget your food and drinks. The fireworks show will start at around 9:30 p.m. Happy Independence Day!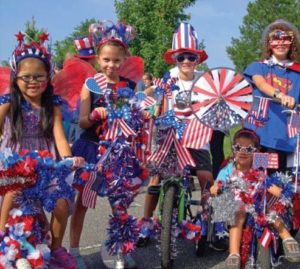 The Big Canoe Fourth of July Family Day is Wednesday, July 4th from 9 am to 2 pm. Imagine bikes with red, white and blue streamers whisking around in parade form while furry friends proudly display their most patriotic fashions.
Up first, the patriotic dog parade kicks off at 9:00 a.m. on the Wildcat basketball court with the ever-popular, decorated bike parade immediately following. Make sure to jazz up your bicycles, tricycles and your favorite furry friends! After the parade awards, head on down to the soccer field at 10:00 a.m. for the big celebration.
Don't leave home without your swimsuit, towel, and courage. Children and adults alike will enjoy plenty of water slides, bounce houses and new for 2018, a monster obstacle course. Family fun continues with field games of water balloon toss and tug of war. But we can't forget about the magnificent spin art, over-the-top balloon animals, and the fantastic family photo booth.
Riverfest is in downtown McCaysville (only 10 minutes from Blue Ridge) and it's sister city of Copperhill, Tn. Charming mountain towns with the Toccoa River flowing through them. The Toccoa River actually changes names as it goes under the Tennessee iron bridge to become the Ocoee River. This is also the destination of a trip aboard the Blue Ridge Scenic Railway. Plan to spend the day visiting craft and food booths. Live music will be available all day. Friday the first day of the festival ends with the annual fireworks shot from the top of "Tater Hill" which can be viewed from anywhere downtown. Saturday, June 30th the Riverfest continues, it is also Miners Homecoming in Ducktown less than 5 miles away. The Ducktown Fireworks will be held at dusk on the evening of the 30th.