Fly Fishing Guides in North Georgia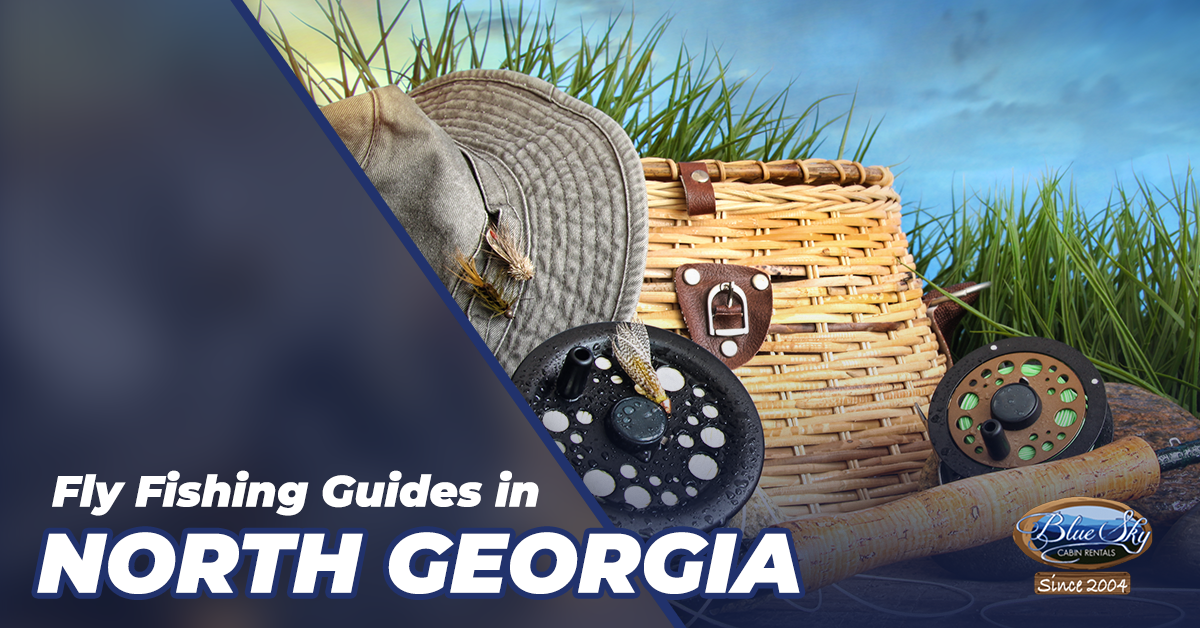 The fly fishing in North Georgia is world-renown with both picturesque scenery and abundant natural water habitats, both moving and still. Highlighted below are some of North Georgia's most prominent services for fly fishing in the area - make sure to match up by staying in a fishing cabin to maximize your fun! Read through to see which guide service fits your needs best, whether you have a large group, superior fishing skills, or a certain destination in mind, there is sure to be a match!
The Angler Magazine Fishing Team
Blairsville, GA


Photo Credit:fishgarrison.com
This unique team of fishing guides has over thirty years of combined fishing experience and is lead by Captain Josh Garrison, who also happens to be the co-publisher of The Angler Magazine. Conveniently, trips embark in the morning from the Hughes General Store where anglers are welcome to grab morning breakfast and load up the cooler before heading out to Lake Nottely or Lake Chatuge. You are welcome to choose a half-day, six-hour trip or and full-day, ten-hour trip length. The team also generously offers a 15% Military discount! They can accommodate small groups of just one or two people, or up to eight, which they would reserve two boats for.

Fly Fishing North Georgia
Blue Ridge, GA

Fly Fishing North Georgia offers wade and float trips on both private and public waters. They are experienced in managing and guiding groups of all sizes, from one to thirty people. They offer more than just guide service, as they can plan activities, dining options, and transportation from the moment you land at the airport. Additionally, they offer options for corporate events, covering details such as team-building exercises and catered meals. They also offer travel excursions to locations including Costa Rica, Belize, Montana, and more. Check out their recent excursions on Instagram @flyfishinnorthgeorgia.

Reel 'Em In Guide Service
Ellijay, GA

Reel Em In Guide Service is one of the oldest and most reliable fishing guide services in North Georgia. They offer guided trips daily every week of the year, closing for only Christmas and Easter. Unique to Reel Em In is their network of highly professional guides that live through the North Georgia region. Their Outfitter/Guide National Forest Permits allows for them to lead trips throughout the Chattahoochee-Oconee National Forest, as well as local streams. As an Orvis-endorsed company, they solely use Orvis brand rods. They offer services for novice to expert anglers and can teach a first time lesson or give hands-on tips for advanced casting techniques. See what they're up to on Instagram @reeleminguideservice.

Wild Waters Fly Fishing Co.
Blairsville, GA

Wild Waters Fly Fishing is lead by head guide, Brad Daniel, who is uniquely suited for the position with over 30 years of local fishing experience. Brad also works closely with Trout Unlimited, Eastern Brook Trout Adventure, and collects data for the National Park Service. Wild Water Fly Fishing openly welcomes fishers of all ages and specializes "on the water off the beaten path". They offer many types of guided fly fishing trips; wade, float, and even multiple day wilderness trips. Their primary fishing waters include the Toccoa and Nottely Rivers as well as Coopers and Noontootla Creeks. Wild Waters prides its business on the service of patient, competent, and experienced professionals who can offer guidance in dry fly action, nymphing, casting, fly selection, and fish handling. Get a firsthand glimpse of all they have to offer on Instagram @wildwatersflyfishingco.

Fly Fish Blue Ridge

Blue Ridge, GA
Fly Fish Blue Ridge is owned by Gene Rutkowski, a long-time local resident with over two decades of guided fly fishing trip experience. They're proud to say that they have generations of repeat customers who return year after year. They are full service, offering all equipment, rods, waders, flies, and guides. Guides primarily fish the area creeks and rivers but can also offer excursions to Lakes Blue Ridge, Chatuge, and Nottely. Check out the updates this season on Instagram @flyfishblueridge.

Bowman Fly Fishing
Blue Ridge, GA

Bowman Fly Fishing guides take pride in not being tied to any one location which allows for guides to determine the location that's best for each particular trip. They offer float and wade trips on the Toccoa River as well as Noontootla Creek trophy trout trips. In addition, Bowman Fly Fishing caters to repeat clients, offering memberships for clients who know they would like guided trips from 6 - 24 times per year at a discounted rate. Follow along on Instagram @bowmanflyfishing.

Toccoa River Outfitters
Blue Ridge, GA

Toccoa River Outfitters offers wading, drift, and kayak fly fishing guided trips. They can accommodate large groups of up to 18 people and also offer a "learn to fly fish experience". The experience is perfect for couples, families, or anyone new to fly fishing. In addition, they rent kayaks, fishing gear, and coolers or you can make purchases in their fly shop. You can also stop for a craft beer and freshly baked pretzel at the Fly Beer and Cider Bar located next door.
Follow along with all their catches on Instagram @toccoa_river_outfitters.

Noontootla Creek Farms
Blue Ridge, GA

ncfga.net

Noontootla Creek Farms is a private farm over 1,000 acres in size. In addition to fly fishing, they also offer quail hunting and a sporting clays course. They also have an on-site farmhouse available for rental, perfect for accommodating up to eight people. The setting on the farm is a small stream experience unique to the area with two miles of wadeable water separated into four different sections. They pride themselves on the technical nature of their fishing as well as their high-quality trout fishery. If you are looking for more than a guided trip, check out Hulsey Fly Fishing (detailed below) to see other services offered on-site at the farm. Follow them on Instagram @ncfga to see all the activities they have to offer along with guided fly fishing trips.

On The Fly Excursions
Blue Ridge, GA

On the Fly Excursions offers a full-service guided fly fishing experience. They have partnerships with many local businesses, retailers, spas, restaurants, and can even arrange transportation between locations. They offer excursions for all levels of experience and all the tackle and gear you'll need for your day out on the water. They offer float and wade trips at several locations all within miles of Blue Ridge. They're proud to offer a catered lunch to guests who book full-day excursions with them. Follow along with all they have to offer on Instagram @ontheflyexcursions.

Hulsey Fly Fishing
Blue Ridge, GA

This guide duo, David and Becky Hulsey, has extensive experience in instructing casting techniques, fly fishing, and guiding trips. David is a Fly Fishers International Master Certified Casting Instructor, and Becky is a Fly Fishers International Certified Casting Instructor. They offer several dates throughout the year for their signature fly fishing school at the famous Noontootla Creek Farms. Private classes for two or more can be accommodated, or you can join one of their large group classes. They also offer instruction for those working towards casting instruction certification, fly casting lessons, fly fishing school for bass, as well as guided trips. They offer wade and float trips in both public or private waters, so you can select an option that best fits your budget and interests. Follow them on Instagram @hulseyflyfishing to see what 25+ years of experience looks like on the water!

Lake and Stream Guide Service
Ellijay, GA


Photo Credit: ellijayfishing.com
Lake and Stream Guide Service is a full-time professional year-round guide service based out of Ellijay. They are proud to offer personally tailored guided trips on Carters Lake, Lake Blue Ridge, Lake Nottely, Mountain Town Creek and several trophy-managed private trout streams. They offer services to cater to beginners in need of full instruction and support all the way to seasoned anglers. Take a sneak peek at what awaits you on your guided trip by checking out the videos on their website or follow Lake and Stream Guide Service on Instagram @lake_and_stream.

Big Ol' Fish Guiding Service
Blue Ridge, GA

Big Ol' Fish Guiding Service prides itself on being the #1 rated fishing guide service in Blairsville, GA, however, they offer services on Lake Blue Ridge as well. They're equipped with modern gear and large boats to accommodate groups of all sizes. Their angling skills have earned them the covers of two fishing magazines, The Angler Magazine and The Coastal Angler Magazine! They are celebrated for their excitement and ability to catch trophy stripers. In addition, they offer gift certificates for the anglers in your life. Be sure to keep up with them on Instagram @bigolfishguidingservice.