I know I have said this before, but there is just so much to do in this area I am just amazed. This past weekend for St Patty's Day, Ellijay had a St PETricks Day Parade! They had dogs of all kinds dressed up in costumes and a parade with the dogs and cats as well. Plus vendors and live music. How awesome is that? I am so excited to be a part of this town and the homey atmosphere. Not that I did not love my hometown in Ohio but it is much larger and even though they have activities for families, you lose that homey feel. That being said, with the warmer weather approaching, I want you to experience the warm and friendly feeling I experience on a daily basis so I thought I would give you all a list of some fun, family activities that all ages can enjoy.
ELLIJAY
Whistle Tree Pottery Company – Whistle Tree Pottery offers a place for everyone to make memories in a relaxed and friendly environment. If it has to do with ceramics, you'll probably find it at the Whistle Tree. Whether painting your own pottery pieces, creating them on the potter's wheel or choosing from the large selection of handcrafted works in the gallery, the Whistle Tree is the region's one-stop source for clay arts. Call 706-698-1223 Hours: Monday thru Saturday 11 to 5 and Sunday 12 to 4.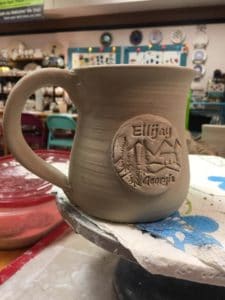 Bowling–
The Alley Bowling Alley 449 Industrial Blvd. Ste. 175 Ellijay, GA Tel 706-276-3130. Cosmic Bowling on Fri and Sat. nights Family Bowling Center with 12 lanes, arcade, Pool tables and concessions incl. pizza.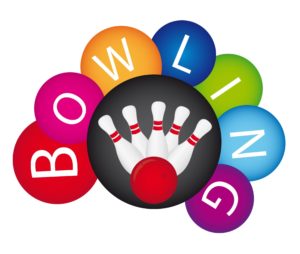 Wildlife Rehabilitation Sanctuary – Our mission is to advance the conservation of indigenous species and their habitats through wildlife rescue, rehabilitation, release, public education, and partnership. A wildlife sanctuary isn't like a zoo where people freely wander around to look at the animals. Instead, it is a refuge for injured or orphaned animals to become well enough to be returned to the wild. Some of these animals easily lose their fear of humans when humans become part of their environment. To ensure that wild animals remain wild, The Wildlife Sanctuary conducts controlled, guided tours of our permanent resident animals, which are educational representatives for their wild cousins.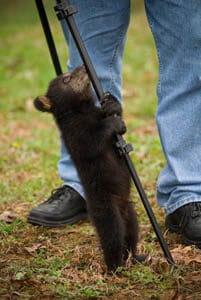 Swim At Jack River Falls – Jack's River Falls was named one of the Best Swimming Holes to Jump Into This Summer by Blue Ridge Outdoors Magazine. A few miles of hiking and you can enjoy the falls and a refreshing pool. If you are feeling daring, jump off the high point of the falls, which looms 20 feet high. Directions: To reach the falls proceed north out of Chatsworth, Ga. on Hwy. US411 for 13 miles to Cisco. Turn right on OldGa2 Rd. Continue on this road (pavement ends about 1.8 miles) 10 miles to FS 62 on the right at Big Frog Loop Road sign. Turn right on FS62 and continue 4.4 miles to Jacks River Trailhead. The Forest Service fee parking area is on the left. The trail to the falls is 3.5 miles of moderately easy walking on an old railroad bed. After reaching the river follow it downstream 0.5 miles to the falls.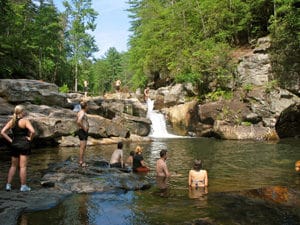 Tubing on the Rivers – Ellijay's name is derived from an Indian word(s) meaning "many waters" and you can experience our many rivers! Tube or kayak the Ellijay River, Cartecay River or the Coosawattee River. All three offer a combination of relaxation and fun! Cartecay River Experience, Kayak & Tube Rentals, and Coosawattee Tubing Company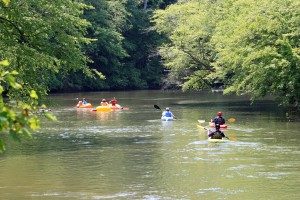 BLUE RIDGE
A great family adventure on the Blue Ridge Scenic Railway starts at the historic depot, built in 1905, in downtown Blue Ridge, Georgia. This charming mountain village is nestled in the lush Chattahoochee National Forest and is known for it's pleasant and unique shopping with friendly folks and an old-time atmosphere. Our regularly scheduled trips are 26 miles roundtrip (4 hours ) winding along the beautiful Toccoa River in your choice of vintage, climate-controlled rail cars or open-air rail cars arriving in the quaint sister towns of McCaysville, Georgia and Copperhill, Tennessee. Passengers have a 2-hour layover in McCaysville/Copperhill; plenty of time to eat lunch, shop for unique crafts and antiques, snack on ice cream, or walk across the old bridge in town to view the river.

The Lilly Pad Village – The Lilly Pad Village, located in the heart of the Aska Adventure Area, (just eight miles out of Blue Ridge, GA. in the heart of Aska) is designed around a beautiful mountain setting with picturesque views and sounds of nature. We offer Gem Mining, Fishing, Miniature Golf, fun gifts, friendly staff, beautiful property, kids and pet-friendly environment, picnic tables and a fun destination.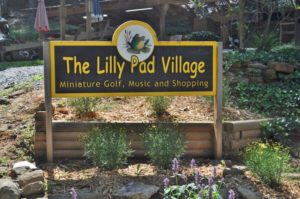 Meet Big Foot!! – Your mountain adventure starts here at North Georgia's BIGGEST family attraction where entertainment meets education. Expedition: BIGFOOT! is a 4000sqft complex where you will see the countries largest permanent display of genuine Bigfoot artifacts, life-sized exhibits, photos, sketches, large up to date sighting maps, and the World's only Bigfoot Research and Tech Vehicle on display. Enjoy The "Sasquatch Theater", browse the Gift shop, or relax in our Bigfoot Reference Library. Join us for a day you will never forget.

Mercier Orchards – Mercier Orchards is a family-owned and operated apple orchard now in its 4th generation. The combination of our U-PICK events, Bakery & Deli, Market Store, and now our Farm Winery makes us a great choice for a day trip by yourself or with the family! Spend the day experiencing what makes us unique! Mercier Orchards is currently open from 7:00 am to 6:00 pm every day!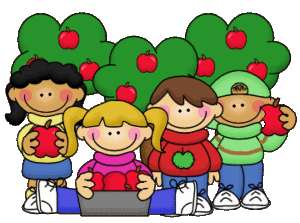 Go Swimming at Morganton Point Recreation Area – Deep within the Chattahoochee National Forest in Northeast Georgia lies an incredible camping and recreation opportunity. Morganton Point Recreation Area sits on the shores of Lake Blue Ridge – a 3,290-acre lake that boasts 60 miles of shoreline and ample outdoor activities. The day-use area offers secluded swimming, hiking trails, picnicking, boating, and fishing.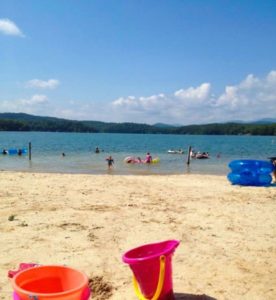 CLEVELAND
Cabbage Patch Kids, Babyland General – Pack the 'Kids™ up for a trip to the new BabyLand General® Hospital in Cleveland, Georgia, voted one of the Travel Channel's Top Ten Toyland's. Beautifully situated on 650 acres in the North Georgia Mountains, this Southern Style home filled with Cabbage Patch Kids will capture the imagination of your entire family. ADMISSION IS FREE. Mother Cabbage is always on display beneath the branches of the Magic Crystal Tree. Pollinated by fanciful Bunnybees®, our magical Cabbage Patch is tended by our Licensed Patch Doctors and Nurses. Babyland General Hospital is the only place in the world where you can witness the birth of a hand-sculpted Cabbage Patch Kid.
When the day is done and you want a nice relaxing hot tub or sip tea on the deck with an amazing view of the mountains…come, stay and relax with us. We offer family-friendly cabins with all the amenities of home.