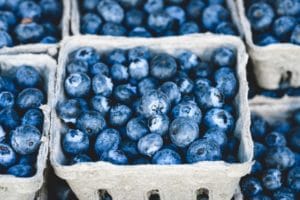 Blake Collins is a pesticide-free blueberry farm located in Morgantown, Georgia. Currently, the farm is only open during the months of July, August and September with daytime hours available Monday through Saturday. Farm goers have been quoted as saying the blueberries are the absolute best and will change your heart to love fresh-picked and not store-bought! Children of all ages can enjoy plucking the sweet ripe berries off the plants and enjoy eating as many as you like while you are spending the time to pick them! Bring your own containers to carry your freshly plucked berries home with you at an amazing rate of only $5 a gallon.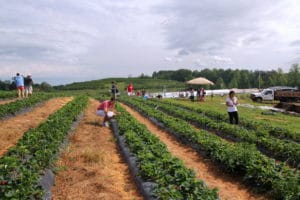 Photo credit: Matt Malone via Flickr CC2.0
Located in Blue Ridge, Georgia, Mercier Orchards specializes in a large selection of yummy pickings to choose from, including apples, blackberries, cherries and they have a cider mill on location for fresh-squeezed apple cider! The orchard is available for visits every single day of the year, apart from 4 major holidays including Easter, Thanksgiving, Christmas and New Year's Day. The fruits available will depend on the current season of your visit, but rest assured there are plenty of delicious goodies for the picking at any given time! Purchase a bag from the orchard and fill it up with your own pickings to enjoy at home. Guides on the property can assist you in what to do and how to pick the best apples from the orchard.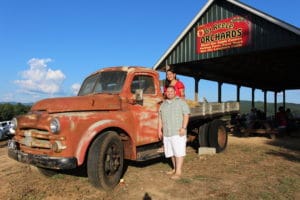 B.J. Reece Orchard is an apple, peach, nectarine, and pumpkin picking orchard that is open from July 17 until December 30. The orchard is in Ellijay, Georgia, and depending on the season will depend on the pickings available during your visit. The orchard offers a market where fresh produce can be bought without picking it yourself. During weekend times, live Bluegrass music, an apple cannon, and a petting farm will be open to visitors. On-site, there are different types of apples that are grown and able to be plucked from their trees, including Goldens, Rome Beauty, Mutsu, Reds, Arkansas Black, and Yates. Other types of apples, such as Gala and Granny Smith, are available for purchase in the orchard's market area.
Hillcrest Orchard is found in Ellijay, Georgia, and specializes in apple trees and beekeeping. The orchard is open in September and October and features a petting zoo, a trike track, a picnic area, and many other amenities! Every afternoon, you can catch clogging performances and live Bluegrass music while you venture the orchards and gather your pickings. Hillcrest Orchard has a beehive exhibition where you can get up close and personal or just purchase some of the delicious honey those crafty little creatures make!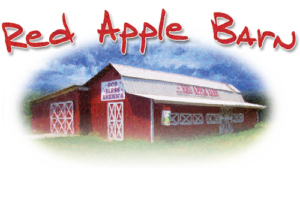 Photo credit: Red Apple Barn
Located in Ellijay, Georgia, Red Apple Barn features apple trees and a pumpkin patch, along with other amenities such as concession and refreshment stands. The Apple Barn is open for small time frames on Saturdays and Sundays. On-site there is a market where fresh-made products can be purchased including jams, jellies, ciders and baked goods that have all been made from the orchard's pickings.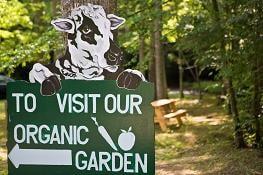 Photo credit: Enota Mountain Retreat
Enota Mountain Retreat can be found in Hiawassee, Georgia, and is open year-round, with different operating times during different seasonal periods. A strictly organically grown farm, Enota Mountain Retreat specializes in produce such as white sweetcorn, asparagus, okra, swiss chard, basil, squash, zucchini, pumpkins, watermelons, cantaloupe, potatoes, carrots, cucumbers, romaine lettuce, sweet potatoes, tomatoes, peas, green beans, blueberries, and gooseberries.
With a wide variety of pickable produce, this farm is sure to delight every age of visitor. Children can also enjoy the farm animals and petting zoo where they can learn about the everyday activities of the animals on the farm and are allowed to assist in feedings during scheduled times. During the months of March to November, guests can enjoy meals that were made using only the farms produce! Farm visitors are also permitted to attend campfire get together with smores, milking goats and cows and gathering farm fresh eggs to take home and enjoy with your family! Enota Mountain Retreat Organic Farms has a little bit of everything and will surely make some lifetime memories for you and your family!
Ready for your fun farm visit?
Check out these farms and enjoy your time in North Georgia exploring these local food producers! There are many more great attractions in the North Georgia Mountains to see and experience. You can go horseback riding, tubing, whitewater rafting, visit the local wineries and apple houses, hiking, fishing, and my favorite…. antiquing. Now, what better way to experience all that North Georgia has to offer than to spend your downtime in a beautiful cabin that has all the amenities of home. Feel free to click our link and begin to explore all we have to offer www.blueskycabinrentals.com.