March is upon us and there is so much to do and see in North/Central Georgia. Festivals, parades, and family friendly events galore.
St Petricks Day Parade March 17th, 2018 11:00 am – 5:00 pm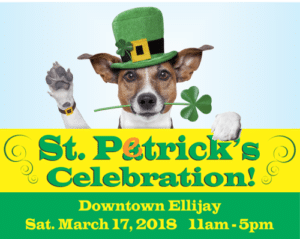 Don't miss the annual St. Petrick's Day Parade and Barking Lot party March 17 in downtown Ellijay. It's a real community event with a parade of pet walkers or floats , owners dressing to match the pets' costumes, live music, games, and vendors. The parade begins at City Hall for individuals and McCutchen St. for groups. Any pet on a leash is welcome. Parade fees go to Friends of Gilmer Animal Shelter. Vendor and parade applications are available at WhimZ Boutique and Pets on Main. A project of the Downtown Ellijay Business & Community Association.
Children's Magic Matinee with Arthur Atsma March 31st. 2018 11:00 am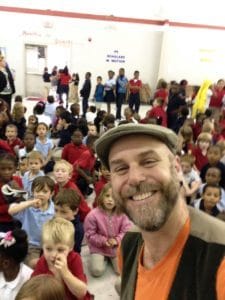 Children's Theatre – Magic & Stories with Arthur Atsma – Arthur's program for this matinee is intended for youngsters to have their first theatrical experience and it be a good one. At about 50 minutes in length, it is perfect for the young attention span and the lively performances are fun for the whole family.
Cabbage Patch Kids Easter Eggstravaganza March 24th, 2018 9:00 am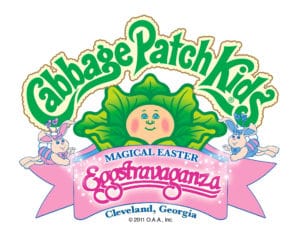 Find the Golden Egg during the 30th Cabbage Patch Kids Magical Easter Eggstravaganza. Enjoy a fun day of activities, including a 30,000 Egg Hunt, prize drawings, Easter Bonnet Contest, costume characters, arts & crafts and food from vendors. Breakfast with the Easter Bunny for early risers. The cost is $12. Reservations required.
St Patrick's Day Parade March 17th, 2018 11:00 am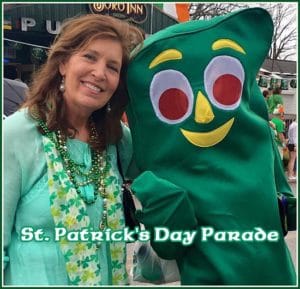 5th Annual St Patrick's Day Parade sponsored by The Boro Inn Irish Pub. Downtown Blue Ridge beginning at 11 a.m. Parade route goes down East Main, across Mountain Street and back up West Main. Anywhere downtown is a great place to watch. Be sure to check out the festivities at The Boro Inn as well. Enjoy brews, food and shopping while your downtown. Where your wild hats & accessories. Crazy hats, the more green the better! You can even be in the Parade! No need to register, just line up on East Main in front of the playground.
The Boro Inn Irish Pub
Easter Eggspress Train Rides March 31st, 2018 11:00 am & 2:00 pm

Downtown Blue Ridge Depo
Easter Egg-spress – Saturday two trips, check schedule for times. Ride the train with the Easter Bunny and hunt for eggs! Don't forget your Easter Basket and cameras!
Blue Ridge Scenic Railroad Box Office or you may purchase tickets on-line.
Easter Egg Hunt/McCaysville March 31st, 2018 11:00 am – 12:30 pm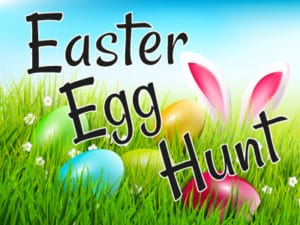 Annual Community Easter Egg Hunt,"Easter Egg Scramble" just 15 minutes from downtown Blue Ridge. March 31, 11:00am-12:30 p.m. Come out and join us as 1,000 stuffed eggs are hidden at the ball field, with prize eggs and a grand prize egg for each age group! West Tennessee Avenue Ball Field, Copperhill, TN Open to all children under age 12. Prizes and free photos with the Easter Bunny! Sponsored by the Tri-Cities Business Association.
International Cherry Blossom Festival March 16th – 25th, 2018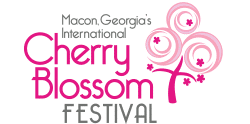 Welcome to Macon Georgia's International Cherry Blossom Festival! We invite you to enjoy gracious Southern hospitality as we celebrate in grand style the magnificent beauty of our 300,000 flowering Yoshino cherry trees in the "Cherry Blossom Capital of the World."
Events include parades, amusement rides, food trucks, concerts, live animal shows, bed races and much more. See our website for full descriptions and locations.
29th Annual Trout Tournament March 31st, 2018 7:00 am – 2:00 pm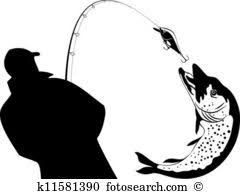 Bring your family and friends to the 29th Annual Helen Trout Tournament on Saturday, March 31, 2018, from 7 a.m. until 2 p.m. The Helen Chamber will stock the Chattahoochee River with over 400 pounds of trophy trout! In addition, DNR will be stocking the river with trout during the tournament.
Visit www.helenchamber.com to register by mail or online OR In Person: Friday, March 30, from 4 p.m. to 7 p.m at the Festhalle and Saturday, March 31, from 7 a.m. to 9 a.m.
Fishermen must have a valid Georgia Fishing License and Trout Stamp. Fishing regulations are governed by the Georgia DNR.
Compete for cash prize awards and raffle drawing at 2 p.m. There will be $4,000 in available prizes! To win prizes, anglers must catch an officially tagged trout and present it in the Festhalle for weigh-in between 9 a.m. and 2 p.m.
Registered participants receive an official tournament t-shirt (while supplies last).
While visiting our beautiful area, check out our cabins for the ultimate in relaxation….