North Georgia Breweries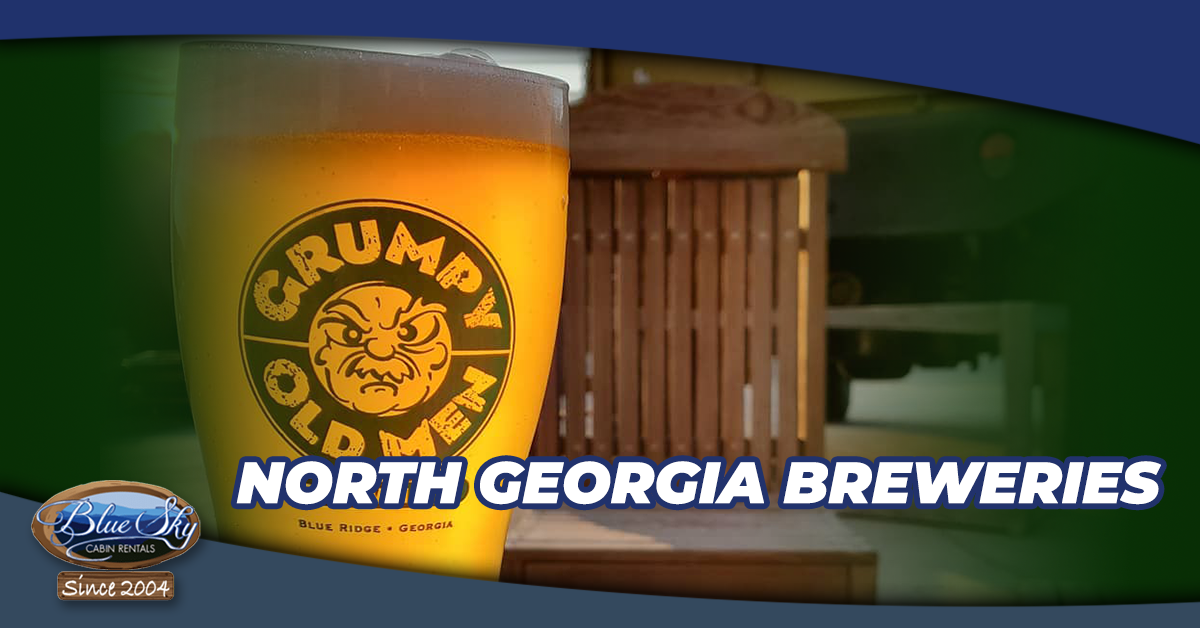 North Georgia Breweries The Best Places For Local Beer You took a vacation because you want to relax. Can you think of a better way to unwind than with a tall glass of locally brewed beer? North Georgia breweries are some of the best in the nation, and they offer a unique way to experience Georgia's culture. The breweries on this list were chosen because of their impressive craft beer selection, fun atmosphere, and, of course, their close proximity to your vacation rental.
Grumpy Old Men Brewing
Blue Ridge's Grumpy Old Men Brewing company has a simple motto: "If we don't like it, we don't drink it. If we don't drink it, we don't sell it." Visit the Grumpy Old Man Brewing company Tuesday through Saturday for a tour and a taste of their local craft beers. The Devils' Den IPA, Hell's Holler Porter, Moon Over Blue Ridge, Grasshoppa IMP IPA, and the Scentsation Double IPA are all as strong as they are flavorful. Grumpy Old Men Brewing consistently receives rave reviews online, and they're a dog-friendly brewery so feel free to bring Fido!
Blue Ridge Brewery
The Blue Ridge Brewery is a must-see destination for every craft beer fanatic. Situated in downtown Blue Ridge, this brewery/restaurant boasts mouth-watering food served with flavorful craft beers in a historic atmosphere. Try the Pineapple Hefe while you're there and don't forget to have dessert, the bourbon pecan pie is incredible. Blue Ridge Brewery is a block away from the scenic railway so you can spend the day taking in the region's awe-inspiring scenery before enjoying an evening of artisanal craft beer and live music.
Fannin Brewing Company
The Fannin Brewing Company is a favorite amongst tourists and Blue Ridge residents alike. This brewery was inspired by the gorgeous Fannin County mountains, homemade wine, and a love of all things German. After growing his own grapes to make wine, the founder of Fannin Brewing Company decided to continue using locally grown ingredients while celebrating his favorite time of the year: Oktoberfest. He chose to open the brewery in Fannin County because "fresh air and fresh water make for fresh beer." The Fannin Brewing Company offers tours Friday through Tuesday. Their signature craft beers are available on draft, in bomber bottles, and in sampler flights. The tasting room also sells growler bottles filled with your favorite brew so you can take their world-class beer home. Fannin Brewing Company's newest craft beer, Hive kicker, is only available at the brewery. Hive Kicker is a German-style wheat wine ale made from locally sourced honey. Hiawassee Golden Ale, Toccoa Brown Ale, Blue Ridge Lager, Moonlight Harvest Chocolate Rye Porter, Rory's Pumpkin Ale, and Red Headed Woman Fruit Beer are just a few of the Fannin Brewing Company's most recommended brews.
Fightingtown Tavern
Don't let the Fightingtown Tavern's name scare you away, this rock and roll themed bar is a casual hangout frequented by both locals and travelers. You won't have to miss your favorite sports team while you're vacationing in Northern Georgia. The Fightingtown Tavern has 13 enormous flatscreen televisions. You'll have a chance to try beers from several local breweries, including the tavern's signature Fightingtown IPA. Be sure to try the locally distilled bourbons and whiskeys. The kitchen serves farm to table meals sourced from local ingredients. Even dogs love the Fightingtown tavern; they're always welcome on the heated patio. The Fightingtown Tavern is committed to making the world a better place. The tavern was built with eco-friendly reclaimed materials, and the dedicated staff is always finding new ways to give back to the community. The Fightingtown Tavern partners with the Tri-State Pet Rescue, the Humane Society of Blue Ridge, and the Feed Fannin Food Bank. If you're looking for a way to give back while you're on vacation, just ask one of Fightingtown's staff members where to start.
Red Hare Brewing Company
Take a tour of this Marietta, Georgia brewery and try some of their finest craft beers. You'll get a taste of Georgia with the seasonal Ain't That a Peach Berliner Weisse craft beer. The Red Hare Brewing Company is an environmentally friendly company that uses cans made of recycled aluminum instead of bottles. For those who don't drink, this brewery also serves delicious craft sodas. Red Hare Brewing Company offers tours daily, and you can even bring your (leashed) dog!
Cherokee Brewing + Pizza Co.
Nothing goes better with an ice-cold craft beer than a gourmet pizza. Cherokee Brewing and Pizza Company features brick oven pizza and craft beer on tap. This Dalton, Georgia brewery serves brews from different breweries so you can try a variety of Georgia-inspired craft beers.
Blue Ridge Cellars
Blue Ridge Cellars isn't a brewery, but they do serve craft beers from all over Georgia. If you don't have time for a brewery tour, stop by Blue Ridge Cellars to taste samples of the region's favorite beers. You'll also have a chance to try their wine made from Georgia grown grapes.

Cold Creek Taphouse
The Cold Creek Taphouse is located in Chatsworth, Georgia and is known for its live music, zesty wings, and frosty cold craft brews. Stop by on a Thursday night to play trivia and sample locally brewed craft beers including Jekyll Brewing's infamous Big Creek Kölsch. The Cold Creek Taphouse also carries craft beers from Atlanta's Scofflaw Brewing Company and the Monday Night Brewing Company. Northern Georgia is known for its breathtaking landscapes, scenic hiking trails, and unspoiled rivers teeming with enormous trout. What many people don't realize is that Northern Georgia is also home to an amazing craft beer culture. Whether you're a connoisseur or a casual craft beer drinker, you'll find a brew from North Georgia breweries that you love!