With Thanksgiving quickly approaching, Christmas is just around the corner. As a newbie to the area, transplanted from Ohio, I have researched some of the events upcoming in the surrounding area of Ellijay, Ga. similar traditions to what I grew up with. Our town would always light up our downtown with a parade to welcome Santa. It was also the first night you could go see Santa at his house and sit on his lap and tell him all the amazing presents you wanted for Christmas.
I have found two such traditions in Blue Ridge and Ellijay: Light Up Blue Ridge and Light Up Ellijay with the return of Whoville.
Light UP Blue Ridge, will take place on November 25th and is an all day event that the whole family can enjoy. There will be holiday music playing throughout the town from 10 am to 4 pm with Santa arriving on the train at 11:15 am. From 12 to 1 pm, enjoy the sounds of Tuba Christmas on the deck beside the red caboose or go get your picture taken with Santa in the gazebo which is located in the downtown city park.. He will be there from 12:30 to 4:30 pm. There will be a Christmas parade with Santa that begins at 5:30 followed by the Lighting of the Great Tree at 7:00 pm. For complete details visit the link below.
http://lightupblueridge.info/2017-schedule-of-activities/
If you enjoy The Grinch then you will love Light Up Ellijay-Return of Whoville. It will take place on November 24th in downtown Ellijay. The whole town will be transformed into Whoville for the holiday season. The tree lighting will take place at 5:30 on the square followed by the parade of Whos at 6 pm. There will pictures with Santa and of course The Grinch. Everyone is encouraged to dress in their best Whoville costume for the event. Plenty of vendors will be on hand for goodies and hot chocolate. Come welcome in the holidays for this family fun event. Click the link below for more details:
http://www.lightupellijay.com/
Another amazing little town to visit is Helen, Ga. Christmas in Helen will transform you to Germany so to speak. As the residents themselves describe the town at Christmas, "It's the charm of Bavaria in the Blue Ridge Mountains."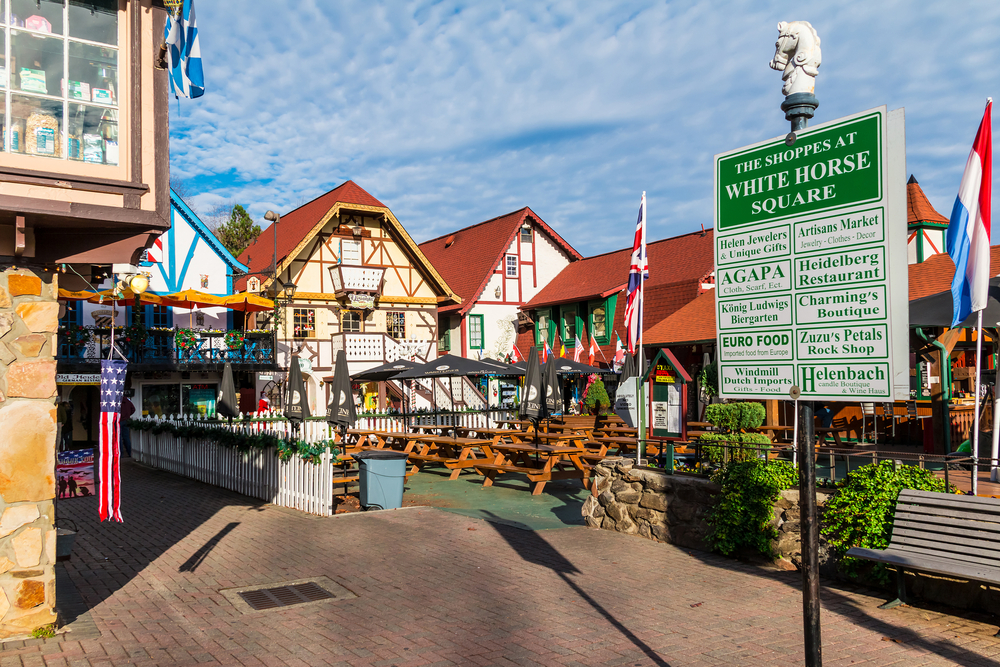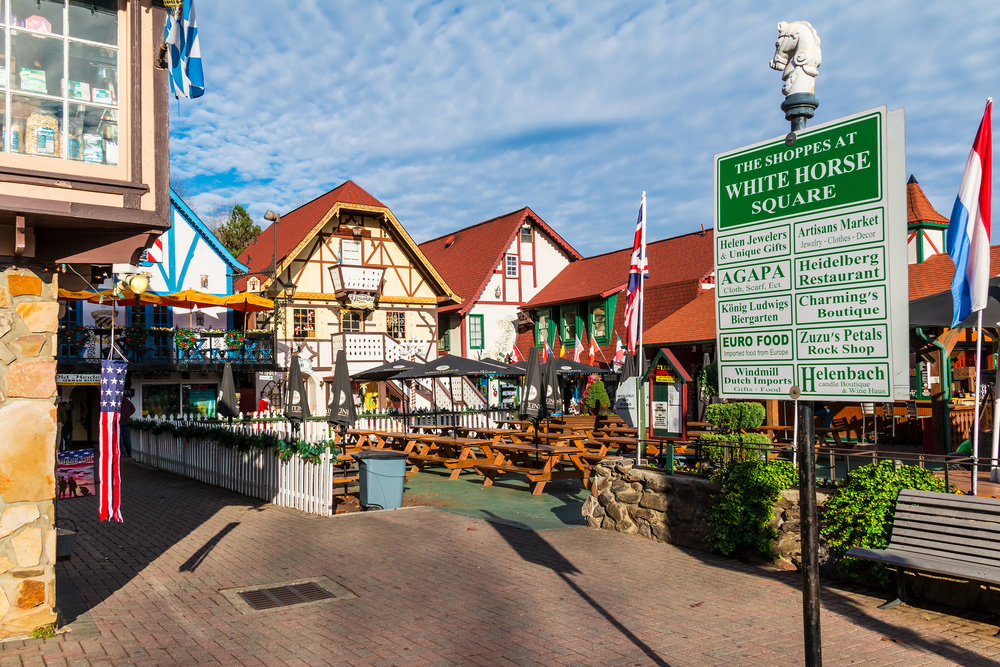 Photo Credit: depositphotos.com
In Helen, you will experience over a month of Christmas traditions. Everything from The Lighting of the Village, Christmas festival and Parade to The Christkindlmarkt ( a traditional German event with booths of food, gifts and decorations).
The traditional Lighting of the Village takes place on November 24th with performances from local music groups, Santa and Mrs. Claus arrive by a horse-drawn carriage at the downtown band shell and children will meet Santa from 6 to 8 pm.
On December 2nd, head to Cleveland Ga, a neighbor of Helen for the Christmas in the Mountains Festival & Lighted Parade. The event runs from 5 to 8 pm and will have many festivities for all to enjoy: pictures and visits with Santa, food and musical performances by local artists, luminary lighting in Freedom Park and a holiday market on the courthouse square. For a list of all the events please see the link below:
http://www.whitecountychamber.org/events/search?from=12/1/2017&to=1/30/2018

There is one more area that I would like to share with you. I've heard so much about this little town, especially decorated for the holidays, plus this town was in a Hallmark movie (Christmas in Homestead) so of course it's a must see!!
Dahlonega's Old Fashioned Christmas, a month-long Christmas celebration will not disappoint with brilliant Christmas lights, festive events, parades and visits with Santa Claus. This years dates are November 24 – December 23.
The season officially begins with the lighting of the town square with the most amazing and biggest display of twinkling lights ever. All the storefronts get donned with lights and garland too so do not miss this kick off the last weekend of November.
There is also an old-fashioned Christmas parade that young and old will enjoy with Santa coming to town and the annual tree lighting with carols and hot cocoa. See the link below for a schedule of all the events.
https://dahlonegachristmas.wordpress.com/schedule-of-events/
Seriously I could go on and on as far as all the celebrations these little towns have in Northern Georgia but there are just too many. Quite frankly, I do not know which ones we will choose. I hope whichever ones you choose, you enjoy with your family and create wonderful memories to cherish forever and to make your stay here even more enjoyable, why not relax and create family memories by staying in one of our Large Family Friendly cabins. Please check us out.