Thank you for your interest in Blue Sky Cabin Rentals LLC, serving the professional vacation and property management needs of the North Georgia Mountains since 2004.
We believe our experience goes a long way when it comes to managing your vacation home or investment property. From routine maintenance and daily property management to large scale projects on your home, we are able to handle it all with local, caring service. All of this experience ensures that your investment is in the best possible hands at all times!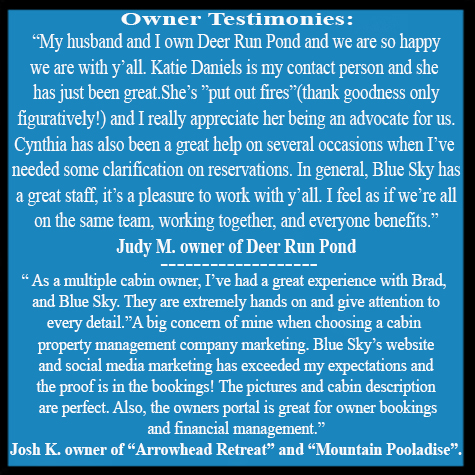 Having a rental cabin is an investment and we want to help you protect that investment while giving you the added benefit of offsetting the cost of home ownership. Renting out your home can sometimes be a scary process. You can rest assured that with Blue Sky Cabin Rentals your home will be in the best possible hands. We are a trusted name in the Ellijay/Blue Ridge communities and throughout the mountains of North Georgia! Having your home on our rental program is a business partnership between Blue Sky Cabin Rentals and you the Homeowner you will be treated with the highest possible level of commitment.
Here are a few of the reasons why you should trust your home to Blue Sky Cabin Rentals:
We are 100% local.

We live here because we love it here and know you want your property managed by those who live in the community.

​All of our homes are advertised fairly. Our advertising is substantial, including Google, Facebook, Pinterest, Yahoo and Bing. You can find our print ads in such media as AAA magazine, vacation guides to the area and our brochures in all Georgia Welcome Centers. Our Facebook page has over 80,000 Likes and growing, and we have quite a following on Pinterest.
Our website is well designed, mobile and responsive (www.blueskycabinrentals.com). We utilize state of the art tools such as LiveRez and Navis and have a web designer on staff who is proficient at SEO (search engine optimization.)
Homeowners receive timely monthly statements and revenue payments, homeowners have access to the rental calendar – this allows you to see all your bookings! There are never any rentals in your home that you do not know about! We also utilize direct deposit for our homeowners.
We handle all aspects of sales tax collections, reservations, cleanings, maintenance, etc… We want to make the rental process as easy as possible for each homeowner. Our service is comprehensive.
We will not risk damage to your home or septic system by allowing more than the maximum number of guests in your home during a rental stay. We do not condone nor allow house parties in any of our cabins.
All fees and maintenance is/are agreed upon by the homeowner before any large maintenance job begins.


All homes are routinely inspected

before and after guests for any damages that may have occurred.

Our staff is simply the best! We employ

full time maintenance professionals, cleaners, inspectors, vacation planners, welcome center hosts, marketing professionals, web designer and a professional office staff

. All of our staff are insured and wear Blue Sky attire. Additionally, we maintain a fleet of trucks to serve your property, ensuring quick service and a professional presence in the area. In short, we have a significant investment in your success!
Every homeowner deserves to know that their home is being taken care of on a routine basis and treated with the quality of service that they expect. Blue Sky Cabin Rental Cabins must undergo a stringent quality assurance assessment. We want to provide our guests with a quality cabin that also provides unmatched cleanliness and all of the comforts of home. In order for us to maintain our standards, we ask that the homeowner provide the guest with as many amenities as possible to help them relax and enjoy their mountain getaway. Our guests enjoy cabins with the following qualities: Water frontage or views, mountain views (of course!) rustic or log-style design, thoughtfully decorated and relatively easy access. Cabins can be either large (5+ bedrooms) or small one bedroom. Seclusion and privacy are also preferred by many guests.
Some of our required amenities for our cabins
Non-Smoking

Flat screen televisions

Central HVAC

Gas Grill

Washer and Dryer

Land Line Telephone

Satellite/Cable with minimum basic channels

DVD player

Hot Tub

Fully equipped kitchen

Wireless Internet access
Some optional amenities that our guests often request
Dog-Friendly

Upgraded linens (sheets and bath towels)

Game room with game systems and/or game tables (pool tables, foosball, air hockey, etc..)

Fire Pit

Fireplaces

Additional television for each bedroom

Firewood provided during seasonal burning

King-size beds

Sleeping arrangements for larger groups (sleep 12-18)
If you feel like your cabin fits these standards and you would like to start generating additional revenue from your vacation home, then it's time to call Blue Sky Cabin Rentals! You can also contact us and give us some information about yourself and your cabin.
So….what are you waiting for? Give us a call today!