Spas In North Georgia & Blue Ridge, Georgia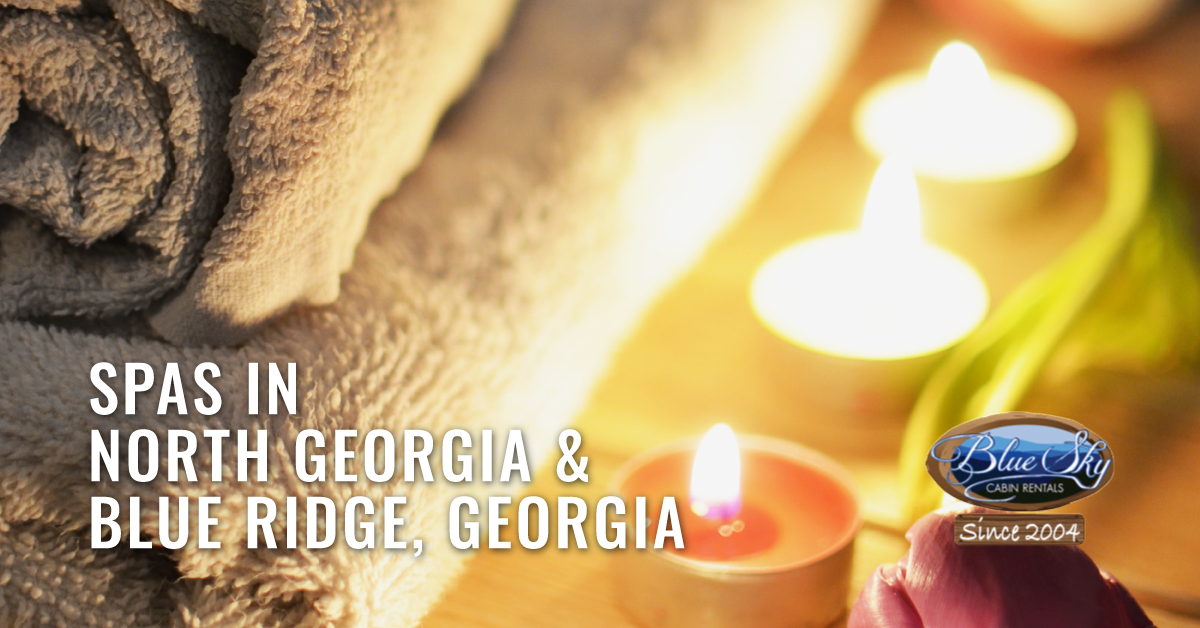 The tranquil beauty of the Blue Ridge Mountains is nourishment for your soul and a gift to your senses. Visitors escape to Blue Ridge to break free from it all - to find a relaxing getaway in an intimate setting to soothe body, mind, and spirit. Combine nature and nurture when you soak away your stresses at these fabulous spas in the North Georgia area.
The Spa at Paradise Hills
Nestled within the Chattahoochee National Forest and the North Georgia segment of the Blue Ridge Mountains, the city of Blairsville is home to The Spa at Paradise Hills. Promising "an oasis of serenity, relaxation, and rejuvenation", Paradise Hills' spa facilities include a steaming rock sauna, an aromatherapy lounge, and three spa treatment rooms.
The menu of services at Paradise Hills includes a range of massage options in 30, 60, and 90-minute sessions, starting at just $45. Facial and body therapies aim for rejuvenation, nourishment, and anti-aging through the use of seasonal, organic, and natural mineral elements. The 50-minute Age Defying, Farm Winery Face Therapy incorporates all-natural ingredients "straight from the farm to your face", like the Wine & Honey mask. Add-on spa experiences include a mineral soak, detoxifying mustard bath, an express facial, and a four-part foot treatment.
Combine the most popular services in any one of Paradise Hills' spa packages for the ultimate experience. Package options range from an hour to a half-day at length, including couples and prenatal services. You can even enhance your spa visit with a trail ride at Track Rock Stables, or a winery tour! If a girlfriends' getaway is on your horizon, indulge in the Royal Treatment Spa Party for up to six guests, or the Paradise Hills Soiree for slightly larger groups wanting to combine a spa experience with a luncheon or dinner.
The Spa at Paradise Hills is open Monday through Saturday from 10 AM to 6 PM. Advance notice of at least one week is advised as availability is limited. Paradise Hills now offers massage therapy services at nearby Mountain Yoga as well, just in case you want to combine some Sun Salutation with your rubdown!
Serenity in the Mountains
Previously named one of the "10 best value spas in the country" by Rachael Ray Every Day, Serenity in the Mountains is a world-class, full-service spa located in the heart of Blue Ridge. Serenity offers a cozy, fireside relaxation area to take advantage of between spa services, maintaining a climate of calm throughout your entire visit.
The spa menu is an extensive list of individualized treatments to refresh and revitalize guests both mentally and physically, including therapy sessions in their unique Himalayan salt cave - a climate-controlled, eco-friendly sanctuary, hand-built with pure Himalayan salt boulders, rocks, bricks, and sand.
Serenity's facial treatments and peels are customized to your skin type, promising illuminating, revitalizing, youthful results starting at just $70. Top off a fresh face with professional makeup application, or a full makeup lesson to discover new tips and tricks for your personal beauty arsenal. Framing your fabulous face comes easy with hair services ranging from simple cuts and stylings to coloring, and prices are on par with standard salon services. Luxurious mani-pedi options round out the selection of treatments available to complete your ideal, one-stop, head-to-toe beauty makeover.
Soothe and revive with full-body treatment options including wraps, scrubs, hydrosoaks, and dry floats - or create your own combination treatment experience for two hours of all-over bliss and regeneration. Speaking of bliss... Serenity's massage choices start at $75 and go well beyond the standard full-body and couples selections. Take full advantage of the Blue Ridge setting with Serenity's original Treehouse Massage Experience, available for 55 or 90-minute sessions. Other massage techniques offered include warm bamboo, hot stone, and maternity. Three and six-hour package options allow you to combine treatments for an extended spa experience.
Don't leave the guys at home! After all, men deserve a little spa time too, and Serenity makes it easy. Most spa services are able to be tailored to male guests. Additionally, Serenity offers a gentlemen's locker room with steam, sauna, and relaxation area. Serenity in the Mountains is open Monday and Tuesday 9 AM to 5 PM, and from Wednesday through Saturday 9 AM to 7 PM.
Teatrees Boutique Spa and Massage Therapy Center

Photo credit: serenityinthemontains.com
Tea trees Boutique Spa and Massage Therapy Center promise the same professional services and amenities as a larger spa in a more intimate, personalized "boutique" environment. The spa's quiet lounge area is centered around a soothing Riverstone fireplace and the outdoor deck overlooks lush gardens bustling with songbirds. The scene is set for the most relaxing day you can imagine! TeaTrees Boutique is also home to a unique Infrared Sauna, noted for its benefits in pain reduction, weight loss, improved circulation, and detoxification.
Organic, seasonal, cleansing and gentlemen's options top the array of facial and skincare services available, along with a 30-minute Express Facial priced at just $45. Body wraps and sugar scrub treatments incorporate the therapeutic properties of lavender, French Rose, vanilla, and seaweed for an all-over sense of cleansing tranquility.
Tea trees offers a variety of massages and other holistic services utilizing deep heat, raindrop, reiki, hot stone, and, reflexology techniques, among others. TeaTree's Signature Massage is a "light to moderate pressure Swedish therapy massage used especially for relaxation, relief of muscular tension, and improvement of circulation and range of motion", capped off with a soothing head massage using tea tree essential oil. TeaTree's Signature Massage is available in 50 or 80-minute sessions.
Package options allow for combined treatment services, as well as add-on experiences including horse riding, kayaking, hiking, and ziplining - so add a little outdoor adventure to your spa visit! Spa Parties are available for groups of five or more. Teatrees Boutique Spa and Massage Therapy Center are open Tuesday through Saturday from 10 AM to 6 PM, but TeaTrees therapists are also available to make "cabin calls" for a therapeutic experience in your private rental cabin setting.
Who can't benefit from a little spa therapy? You've already found the perfect setting for some rest and relaxation and the natural scenes that define serene. Now, you just need a little time that's all about finding your best self and your inner peace. These locations have just the offerings to do the trick. Now kick back, relax, and get your vacation started!