North Georgia Tubing Guide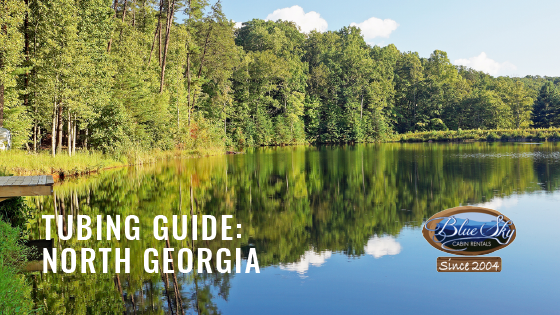 If you and your family are vacationing in beautiful North Georgia during the hot months of summer, there's definitely one activity you should add to your Blue Ridge bucket list: river tubing!
Tubing down one of the famous North Georgia rivers offers everyone in the family a great day on the water. And for the more intrepid adventurer, some of the accessible rivers in Georgia offer a more exciting day, complete with small rapids to spice up the trip.
If you're considering booking a tubing trip but aren't sure where to get started—we've got you covered! Enjoy this quick and easy guide to river tubing in Northern Georgia.
---
Find A Local Trusted North Georgia Tube Rental Company
If you need to rent tubes for the group, you will want to find a local outfitter. Outfitters maintain an outpost somewhere along the river. This is where you will park your vehicle, sign waiver forms, get fitted for life vests, and pay for your tube rental. Your river tube rental usually includes a ride on a shuttle to the 'put in' point—the area where you will launch your tubes. At the end of the trip, you will get out of the river at the 'take out' point. You will carry your tube a short distance back to the shuttle where you will catch a ride back to your vehicle. It's easy and convenient.
Here are a few of our favorite Blue Ridge river tube rental companies:
Ellijay River Outfitters
88 Holt Bridge Rd, Ellijay, GA 30536 | (706) 889-8697
Hours: 10 a.m. - 4 p.m., Daily
Tube Rental Rates: $11 - $21
Tube Trip Duration: 1 mile (~1 hour) or 3 miles (3 - 5 hours)
Conveniently situated along the Cartecay River, Ellijay River Outfitters offers a fast and friendly river tubing experience. They provide all the equipment you'd need, including life jackets, tubes, and a quick shuttle service to the river. This local outfitter is a great option for groups and families seeking a convenient, all-inclusive river tubing experience. Coolers are allowed on the water (but no glass), and discounts are available for groups of 10 or more.
Cartecay River Experience
2400 GA-52, Ellijay, GA 30536 | (706) 531-4746
Hours: 10 a.m. - 5 p.m., Daily
Tube Rental Rates: $15
Tube Trip Duration: 5 hours - 8 hours (varies seasonally)
Blue Ridge visitors looking to make a full day of river tubing will love the extra-long trips offered with the Cartecay River Experience. This friendly and affordable local rental company features 5 and 8-hour tube rides for only $15 / person. Life jackets, tubes, and a shuttle to the river are included in the price. Please note, Cartecay River Experiences does not allow the use of cooler tubes; only small, personal coolers are permitted.
Cool River Tubing
590 Edelweiss Strasse, Helen, GA 30545 | (706) 878-2665
Hours: 9 a.m. - 6 p.m., Daily
Tube Rental Rates: $10 per person
Tube Trip Duration: 1 - 1.5 hours or 2 - 2.5 hours
Not your average day on the water, Cool River Tubing offers fun and kid-friendly river tubing experience. Two trip options are available, ranging from 1-1.5 hours to 2-2.5 hours. Additionally, Cool River offers smaller, kid-sized tubes that also have a bottom for easier riding. And, the extra cool rates of only $10 per person includes the tube, life jacket, and key saver service. The facilities also offer a fun waterslide and a few other water attractions for added family fun!
Toccoa Wilderness Tubing
8436 Aska Rd B, Blue Ridge, GA 30513 | (706) 455-6496
Hours: 10 a.m. - 3 p.m., Daily
Tube Rental Rates: $10 per person
Tube Rental Duration: 2 - 2.5 hours
Blue Ridge adventurers seeking a leisurely, picturesque river float will appreciate the beautiful mountain scenery offered at Toccoa Wilderness Tubing. Trips with Toccoa average 2 - 2.5 hours, perfect for an afternoon trip. And, for only $10 per person, this is a float trip that won't break the bank! The price includes the tube, life jacket, use of changing rooms and picnic tables, and the river shuttle. The float also passes under the historic Shallowford Bridge, the highlight of the trip!
Rolling Thunder River Company


Photo Credit: amweise via Instagram
20 Hughes St, McCaysville, GA 30555 | (800) 408-7238
Hours: 9 a.m. - 6 p.m., Daily
Tube Rental Rates: $8 - $15 per person
Tube Trip Duration: 1 mile or 3 mile
Visitors looking for a river tube adventure that is fast and furious will love the thrilling rides at Rolling Thunder River Company. This stretch of the Toccoa River is dam-controlled, so water levels and speeds can change throughout the day as necessary. When the levels are high, water flows considerably faster and floaters could even experience a few small rapids. The rentals at Rolling Thunder start at only $8 per person for the shorter float and include life jackets and a complimentary shuttle.
Keep in mind—you don't have to rent tubes from an outfitter. You are welcome to bring your own tubes and plan your own river adventure or find an outfitter that will let you park and hitch a ride with their shuttle, which is usually available for a small fee.
---
Best Time Of Year To Go River Tubing In North Georgia
The typical 'season' for river tubing runs from Memorial Day to Labor Day when the weather is warm enough and the water levels are appropriate for having a good float trip! If you can't swing a summer trip—don't worry. Some outfitters run all the way through October 1st!
If you have your own tubes, you don't have to worry about the hours of operation of the outfitters in the area unless you want to hitch a ride with their shuttle service (usually an option for a nominal fee).
---
Best North Georgia Rivers For Tubing
The North Georgia area has several beautiful wild and scenic rivers where you can find wonderful opportunities for tubing. Here is our list for the best tubing in North Georgia rivers.
Chattahoochee River

Photo credit: Shawn Taylor via Flickr CC2.0
If you are going to be in the vicinity of Helen, Georgia this river is an absolute must! You can access the water upriver from the adorable alpine-inspired village of Helen. You can arrange for a 2-hour float and enjoy the view as you wind through the peaceful forest setting and then on down through Helen.
The Chattahoochee River runs right through the middle of Helen so be prepared for a lot of people to watch as you float downstream. Don't worry: most of them will be wishing that they were floating along with you! After your trip is over, Helen has a wide variety of great places to catch lunch or dinner, and some of them offer a great view of the families tubing downstream.
Toccoa River

Photo credit: Jimmy Emerson, DVM via Flickr CC2.0
The beautiful Toccoa River, which flows through the scenic Blue Ridge Mountains, offers an excellent opportunity for family tubing. The typical length of a trip, if you are using a local outfitter, will take around an hour-and-a-half to two hours to complete. The Toccoa River itself is a beautiful and peaceful location, and tubing allows you to traverse the river at a leisurely pace so you can enjoy the scenery. Keep an eye out for wildlife; since this is a wilderness location, you may see otters, deer, and even black bears.
Many outfitters maintain a small gift shop where you can find items that you forgot to bring with you like sunscreen, water shoes or even a waterproof pouch for your phone so you can take some photographs of your group out on the water!
Chestatee River

Photo Credit: urricane Mitch™ via Flickr CC2.0
Near Dahlonega, Georgia you can find the Chestatee River. This river provides a great place for tubing and it is not as congested as the more well-known rivers can be at times. The trip is short—around 45 minutes—but the last time we checked, there is a nature trail along the river that will take you back to the top so you can run the river again and again. If that is not possible, your outfitter may offer the option of repeating the trip for a nominal fee, so be sure to check with them as you make your plans for the day. The Chestatee is a mild river, so it is an excellent choice for groups with young children along.
Coosawattee River
The Coosawattee River is located outside Ellijay, Georgia. There is a rafting company across the Shallowford Bridge where you can rent tubes for the family and head downriver. You may be able to rent a cooler tube if you have brought drinks and snacks along. If you are vacationing in the area in August, you may be able to find a night tubing trip at this location! This river gives you a nice lazy float that takes a couple of hours to complete.
---
Top Tips For River Tubing
1. If the weather has been very hot with little rain, you may want to check with your chosen outfitter before you show up to tube to make sure that the river water level is adequate for a good tubing trip. It is no fun to show up for a stress-relieving float trip and end up having to carry your tube through large areas of low to no water!
2. Keep in mind that on many rivers you can anticipate running into an occasional area where you may have to climb out of your tube to portage around a dry or extremely rocky area.
3. Dress appropriately for the trip! We suggest wearing the following:
Bathing suit
Water shoes (you may have to get out of your tube if you get stuck on some rocks, and this will protect your feet)
Bottled water and snacks; check the cooler policy in advance to be sure you pack appropriately!
Sunscreen
Sunglasses (if your river has rapids, use a strap)
Hat (if your river has rapids, use a strap)
4. Remember, most outposts have picnic tables; if they have a picnic area, you may want to pack a nice lunch so you can relax by the river before or after your trip.
5. Many outposts have a changing area and even shower facilities. Bring towels for everyone so you can get out of your wet clothes after your river tubing adventure.
---
Tubing in North Georgia is one of the most enjoyable ways to spend the afternoon on a hot summer day. It is relaxing, refreshing, and most of all, a whole lot of fun! If you are heading for the water, prepare for a great afternoon with friends and family.
Now that you know the fun things to do, search our North Georgia cabin rentals to find a great place to stay!
What are you waiting for? The river is calling your name!