If you and your family are vacationing in beautiful North Georgia during the hot months of summer, one activity you may consider is heading for the nearest river for some tubing. Tubing down one of our local rivers can offer everyone in the family a great day on the water. And for the more intrepid adventurer, some of the accessible rivers in Georgia offer a more exciting day, complete with small rapids to spice up the trip.
Find A Local Trusted North Georgia Tube Rental Company
If you need to rent tubes for the group, you will want to find a local outfitter. Outfitters maintain an outpost somewhere along the river. This is where you will park your vehicle, sign waiver forms, get fitted for life vests, and pay for your tube rental. Your tube rental usually includes a ride on a shuttle to the 'put in' point: the area where you will launch your tubes. At the end of the trip, you will get out of the river at the 'take out' point. You will carry your tube a short distance back to the shuttle where you will catch a ride back to your vehicle. It's easy and convenient.
The typical 'season' for tubing runs from Memorial Day to Labor Day, when the weather is warm enough to tube and the water levels are appropriate for having a good float trip! (Some outfitters run all the way through October 1st!). If you have your own tubes, you don't have to worry about the hours of operation of the outfitters in the area unless you want to hitch a ride with their shuttle service (usually an option for a nominal fee).
The North Georgia area has several beautiful wild and scenic rivers where you can find wonderful opportunities for tubing. Here is our list for the best tubing in North Georgia rivers.
Chattahoochee River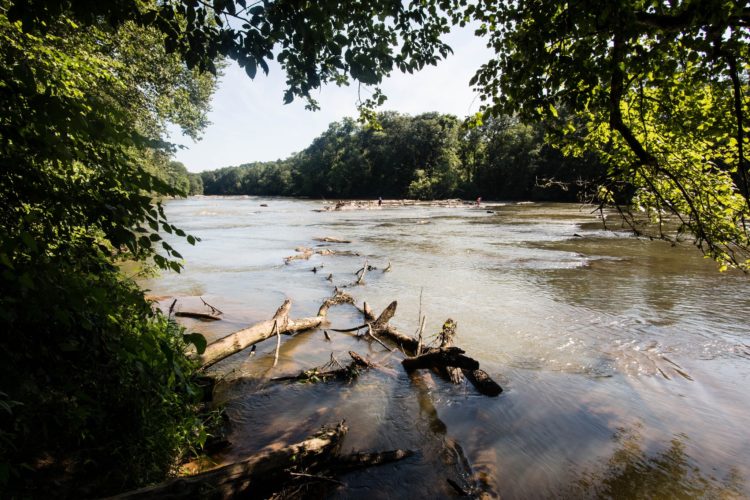 If you are going to be in the vicinity of Helen, Georgia this river is an absolute must! You can access the water up river from the adorable alpine-inspired village of Helen. You can arrange for a 2-hour float and enjoy the view as you wind through the peaceful forest setting and then on down through Helen.
The Chattahoochee River runs right through the middle of Helen so be prepared for a lot of people to watch as you float downstream. Don't worry: most of them will be wishing that they were floating along with you! After your trip is over, Helen has a wide variety of great places to catch lunch or dinner, and some of them offer a great view of the families tubing downstream.
Toccoa River
The beautiful Toccoa River, which flows through the scenic Blue Ridge Mountains, offers an excellent opportunity for family tubing. The typical length of trip if you are using a local outfitter will take around an hour-and-a-half to two hours to complete. The Toccoa River itself is a beautiful and peaceful location, and tubing allows you to traverse the river at a leisurely pace so you can enjoy the scenery. Keep an eye out for wildlife; since this is a wilderness location, you may see otters, deer and even black bears.
Many outfitters maintain a small gift shop where you can find items that you forgot to bring with you like sunscreen, water shoes or even a waterproof pouch for your phone so you can take some photographs of your group out on the water!
Chestatee River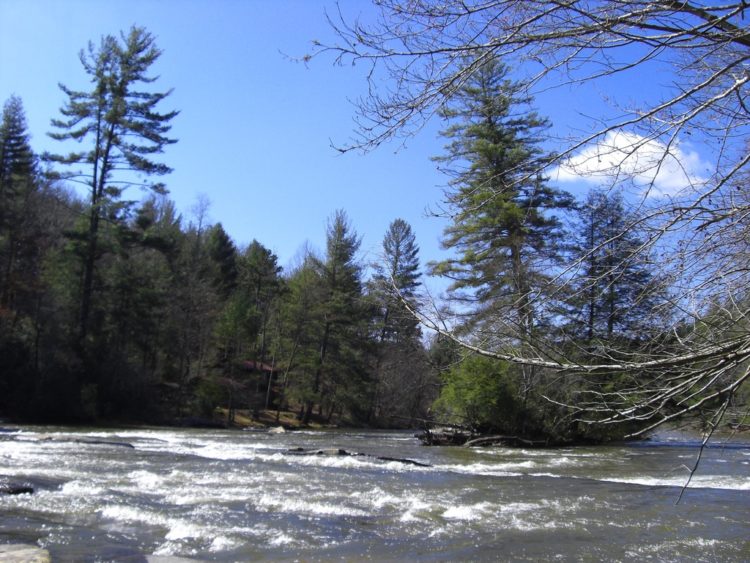 Near Dahlonega, Georgia you can find the Chestatee River. This river provides a great place for tubing and it is not as congested as the more well-known rivers can be at times. The trip is short—around 45 minutes—but the last time we checked, there is a nature trail along the river that will take you back to the top so you can run the river again and again. If that is not possible, your outfitter may offer the option of repeating the trip for a nominal fee, so be sure to check with them as you make your plans for the day. The Chestatee is a mild river, so it is an excellent choice for groups with young children along.
Coosawattee River
The Coosawattee River is located outside Ellijay, Georgia. There is a rafting company across the Shallowford Bridge where you can rent tubes for the family and head down river. You may be able to rent a cooler tube if you have brought drinks and snacks along. If you are vacationing in the area in August, you may be able to find a night tubing trip at this location! This river gives you a nice lazy float that takes a couple of hours to complete.
Tips for Tubing
1. If the weather has been very hot with little rain, you may want to check with your chosen outfitter before you show up to tube to make sure that the river water level is adequate for a good tubing trip. It is no fun to show up for a stress-relieving float trip and end up having to carry your tube through large areas of low to no water!
2. Keep in mind that on many rivers you can anticipate running into an occasional area where you may have to climb out of your tube to portage around a dry or extremely rocky area.
3. Dress appropriately for the trip! We suggest the following:
Bathing suit
Water shoes (you may have to get out of your tube if you get stuck on some rocks, and this will protect your feet)
Bottle of water (you can tie a string around the neck of the bottle and attach it to your tube)
Sunscreen
Sunglasses (if your river has rapids, use a strap)
Hat
4. Remember, most outposts have picnic tables; if they have a picnic area, you may want to pack a nice lunch so you can relax by the river before or after your trip.
5. Many outposts have a changing area or even shower facilities. Bring towels for everyone so you can get out of your wet clothes after your tubing adventure.
Tubing in North Georgia rivers is one of the most enjoyable ways to spend the afternoon on a hot summer day. It is relaxing, refreshing, and most of all, a whole lot of fun! If you are heading for the water, prepare for a great afternoon with friends and family. Now that you know the fun things to do, search our North Georgia cabin rentals to find a great place to stay!
The river is waiting for you!