Romance In The Mountains: Valentines Day in North Georgia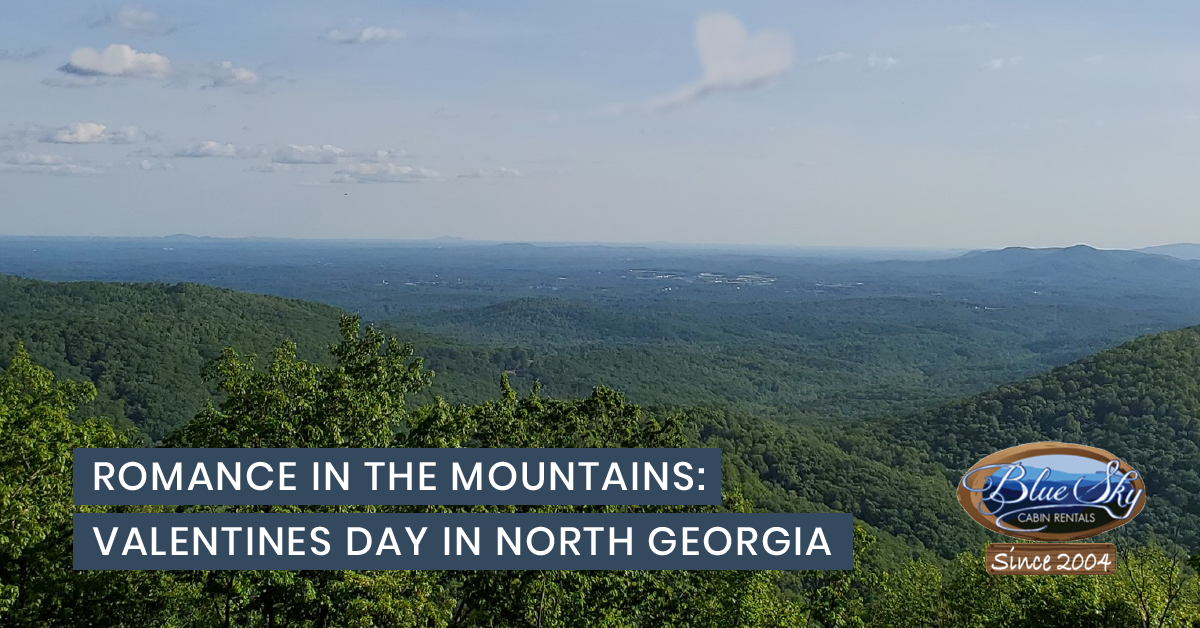 It's that time again, you want to do something special for your sweetie but are not sure what. With Valentine's Day just around the corner, there is still time to plan a romantic getaway weekend.
There's nothing like coming to the mountains of North Georgia for that romantic atmosphere. Beautiful scenery, winding rivers, mountain views, romantic cabins nestled in the mountains, it's all here in Northern Georgia.
For the most romantic getaway, here is a guide to help you plan your trip.
Book That Romantic Cabin
If you love nature and the views of the mountains and want privacy and seclusion, your best bet is to book a beautiful cabin. There are many different types of cabins to meet all your needs. Whether you prefer one in the mountains or by the river, one that has a hot tub or is pet-friendly, one that is cozy or grand and elegant, you can be sure to find one that meets your specific needs. Whatever your heart desires, you can make your special weekend one to remember in a North Georgia mountain cabin.
Explore The Outdoors
For those of you who do decide to venture outside, exploring the mountains of Northern Georgia will leave you breathless. There are many way to "explore the outdoors" from hiking, mountain biking, viewing waterfalls, zip-lining, white water rafting, fishing, golfing, and swimming to antiquing in the many small mountain towns plus all the local festivals, there is never a shortage of things to do outside. Georgia's official tourism website will have everything you need to plan the perfect outdoor activity that is just right for you.
Relax With a Horse Drawn Carriage Ride
There does exist a little town in the mountains that is so magical, you will feel like you are in the Alps. This charming Alpine Village of Helen will not disappoint. Here, the Alpine Carriage Company offers relaxing buggy tours through the beautiful downtown Helen. Enjoy the fine Bavarian architecture and dining. You can choose either a half-hour or an hour ride and there are several different buggies to choose from. They even have a Cinderella Buggy.
Wineries and Vineyards Tour and Tastings
Some of the most romantic getaways are the many vineyards and wineries that are plentiful in the North Georgia Mountains. The mountains of North Georgia have seen a resurgence in the last 30 years of vineyards and wineries, specializing in great local wine.
These area wineries and vineyards have won many awards and accolades and have proven they can stand up to the larger wineries and vineyards of the world. As the local wine culture continues to evolve, these wineries and vineyards have created several different tasting menus and events that are perfect for your romantic getaway. Here are a couple of links to get you started: 5 Winning Wineries in North Georgia, Wineries and Vineyards in Georgia
A View From Above In A Hot Air Balloon
The scenery of the North Georgia mountains is beautiful from the ground but the view from above is truly spectacular from the air. Imagine the romance of floating above these beautiful mountains with your loved one in a hot-air balloon from Balloons Over Georgia.
You can take in the view of the sun reflecting off the waters of Lake Lanier and the beauty of the Appalachian and Blue Ridge Mountain Ranges. While soaring over the marshy areas, keep your eyes open for blue herons and cranes that may swoop alongside you.
A ride in a hot-air balloon will certainly top the list of most romantic things to do and will create memories that will last a lifetime together. Balloons Over Georgia offers a variety of different ride options that give you plenty of choices when planning your trip.
Couples' Spa Treatments
Sharing time together, while on your getaway, in a soothing and relaxing environment, can be a well-needed occasion especially after a day of hiking or white water rafting. There are many choices but a few at the top of the list are:
Tea Trees Boutique and Spa will treat you to a special romantic day beginning with candlelight, side-by-side massage and afterward you can relax over a cup of herbal tea together.
The Nacoochee Crossing Wellness Center and Day Spa has a treatment room dedicated to couples. You may select from a variety of spa treatments, including the Bindi Oil Massage. This massage utilizes flower essences and aromatherapy to re-hydrate your skin, nourish sore muscles, boost circulation, and relax your nervous system.
The Mountain Laurel Creek Inn offers a variety of couples' spa treatments in the Oasis Spa. The Relaxation Package for Two offers couples two hours of full body massage and a European Facial. The D'Vine Wine Spa Therapy Treatment is an excellent spa treatment that includes an hour-long massage, hand and foot scrub and facial. Enjoy the Chianti & Grape Seed Crush, a vinotherapy, scrub that exfoliates, conditions and moisturizes with the power of rich red wine. Lastly, they offer the Couples Romantic Mountain Spa Package. This includes a one-hour couples massage followed by a 30-minute couples private infrared sauna session. Champagne & Truffles and use of the spa facility including locker rooms, saunas, relaxation room, and outdoor saltwater pool and spa.
And Of Course, A Relaxing And Peaceful Horseback Ride
What could be more romantic than riding off into the sunset on horseback? Nestled in the North Georgia Mountains, Fort Mountain Stables has 25 miles of riding trails to explore. Fort Mountain Stables has several packages for whatever level of experience you are at and how long you want to be in the saddle. They offer guided horseback riding adventures on 25 miles of scenic trails. Their trails include old talc, which are mine shafts where you can experience Mother Nature's air conditioner in the summer and heater in the winter, scenic overlooks, and waterfalls. You may also come upon certain wildlife that may venture out and greet you while on your ride. You could see deer, turkey or bear strolling through the park. For more information, call 706-517-4906
There are several riding facilities to find that perfect trail ride. Here is a link to an article that outlines 20+ Unforgettable Trail Rides in Georgia.
You have no excuse now, not to plan an extraordinary romantic getaway for your sweetie. I have given you a head start and information to plan the most memorable getaway ever. Whether you stay in one of our cabins and just enjoy each other and your surroundings or seek out romantic excursions in the surrounding areas, your sure to please your sweetie.
Your first step is here: North Georgia Mountains Cabin Rentals
Just to give you an idea of what we have to offer, here are some of our newer cabins that just came on board with us.