Things To Do In Morganton, Georgia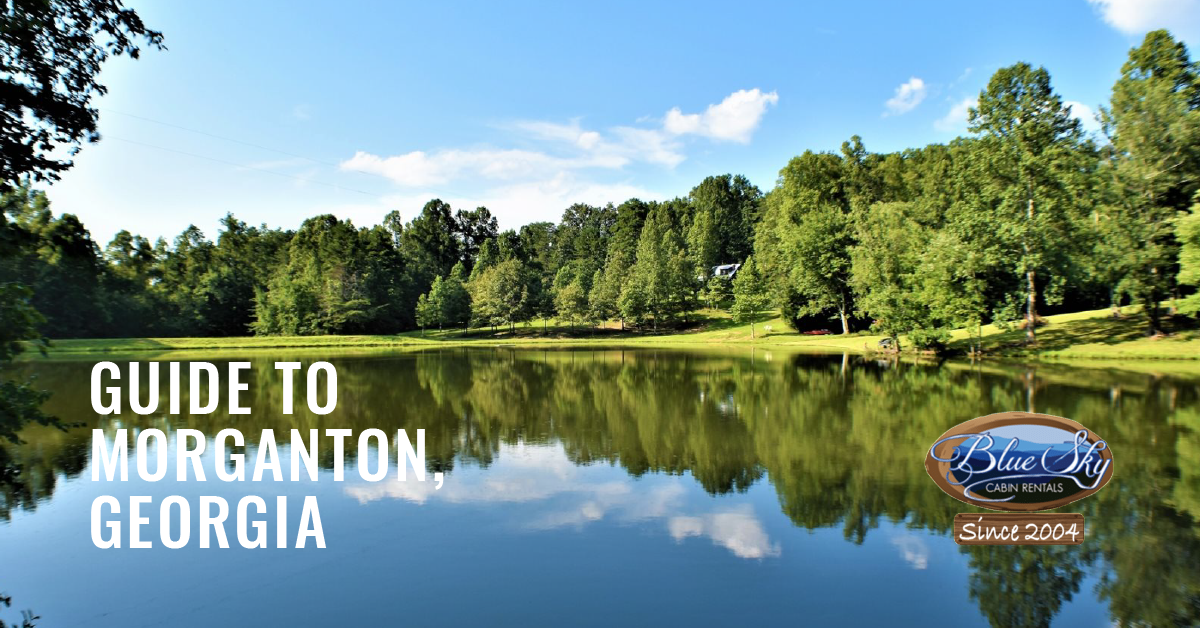 If a small, cozy town nestled in the North Georgia Mountains sounds like the perfect place to enjoy a long weekend or a week-long getaway, you've come to the right place. Located in Fannin County, just northwest of Blue Ridge, Morganton, Georgia is a quaint little mountain town that looks as if it was plucked right off the front of a postcard. While it's tempting to cuddle up inside your rental cabin and enjoy the peacefulness the community has to offer, there are many more things to do in Morganton and the surrounding areas.
Morganton Point Recreation Area and Lake Blue Ridge

Morganton may only have a population of just over 300 people, but don't let its size fool you. It's actually one of the most exciting outdoor recreation spots in the North Georgia Mountains. Situated in the Chattahoochee National Forest, the Morganton Point Recreation Area is a favorite of locals and tourists alike. While many come just to take in the gorgeous views of the surrounding mountains, lake, and forest, there are many other opportunities here to have a good time. Bring the family out for a picnic, or go for a hike along several nature trails, including one that runs along the pristine shores of Lake Blue Ridge.
Speaking of Lake Blue Ridge, 3,290-acre lake is a great place to spend a day. It's known for its crystal clear waters, beautiful scenery, and all the bass, trout, perch, and walleye you can catch. Whether you enjoy a quiet morning of fishing or you want to go for a swim along the lake's beautiful shoreline, it's all right there at your fingertips. Lake Blue Ridge is considered one of the best spots to kayak in the state of Georgia, and visitors can also go canoeing, boating, jet skiing, water skiing, and windsurfing on its waters.
Tank Town USA

Photo Credit: tanktownusa via Instagram
Tank Town USA is another one of Morganton's most beloved attractions. Anyone who has ever dreamed of driving a tank, bulldozer, excavator, and other heavy equipment can do just that.
Guests can even learn to shoot a machine gun or crush a car by driving a tank over it. It's the ultimate outdoor playground for adrenaline junkies, and the facility even hosts events like bachelor parties. Consider making a reservation at Tank Town USA a few weeks in advance to ensure you have a spot waiting for you when you arrive in town.
Serenberry Vineyards

Photo Credit: ashleyapilgrim via Instagram
For an adventure that's a little more serene, spend a day at Serenberry Vineyards when you visit Morganton. Their tasting room is open Thursday through Sunday, and every wine available was made from grapes grown right here in Georgia. When you visit, you can tour the vineyards and take in the amazing mountain scenery that is all around the property. Don't forget to buy a bottle or two before you leave.
Appalachian Trail Rides at S&T Stables

Photo Credit: jrcrewsjr via Instagram
Morganton is just across the Appalachian Highway from a town called Mineral Bluff. One of the biggest attractions in this neighboring city is the Appalachian Trail Rides at S&T Stables. Forget walking through some of North Georgia's finest natural settings.
See the beauty and splendor via horseback as you wander over 250 acres of mountains, lakes, creeks, trails, and forest. The management team has over 30 years of experience working with horses, and each ride is led by a seasoned guide. A horseback ride through the Appalachian Forest is one of the best ways to create memories for family members of all ages when you visit Morganton.
City of Blue Ridge

Photo Credit: bruceweeks1 via Instagram
Of course, you can't visit Morganton without taking a little trip over to spend the day in Blue Ridge. While it's a little bigger than Morganton, Blue Ridge remains a charming mountain town with a fun artsy vibe and plenty to do throughout the year. Be sure to head downtown to check out the art galleries, craft breweries, and restaurants that serve up some of the best Southern cooking you'll ever eat.
Take a historic walking tour to learn about the local sites and their storied pasts, or sit back and enjoy live music almost every weekend. Shop in a little locally-owned boutique or general store, or attend one of the many annual festivals. Blue Ridge is also home to multiple farms and orchards, like Mercier, the largest family-owned orchard in the South. Pick your own apples, berries, and peaches when they're in season, and be sure to stop by the bakery to have a famous hot apple pie. Mercier and other orchards in the area are especially fun to visit during the fall when apple season is in full effect.
Blue Ridge Scenic Railway

Photo Credit: blueridgescenicrailway via Instagram
You can't leave the Morganton area without taking a trip on the Blue Ridge Scenic Railway. It's one of the most exciting things to do in Fannin County. The ride lasts for four hours and takes you from the city of Blue Ridge up to McCaysville on the Georgia-Tennessee state line. Once you're there, you'll stop for two hours to have lunch and stand on the line that separates the two states.
The trip covers 26 miles of beautiful mountain scenery and travels along the Toccoa River. Southern Living magazine has described it as one of the best ways to check out the fall foliage in Georgia, but it's a wonderful way to have fun throughout the year.